This help center article will provide information on how to set up BTT/TRX donations, and how to send BTT/TRX donations.
How to start accepting BTT / TRX Donations
Log in to DLive with your Streamer Account
Visit your Streamer Dashboard Page: https://dlive.tv/s/dashboard
Select the "Stream Setting" option
Enter your "Receiving BTT Wallet Address" in the box and press "Submit"
You can use any BTT/TRX receiving wallet address.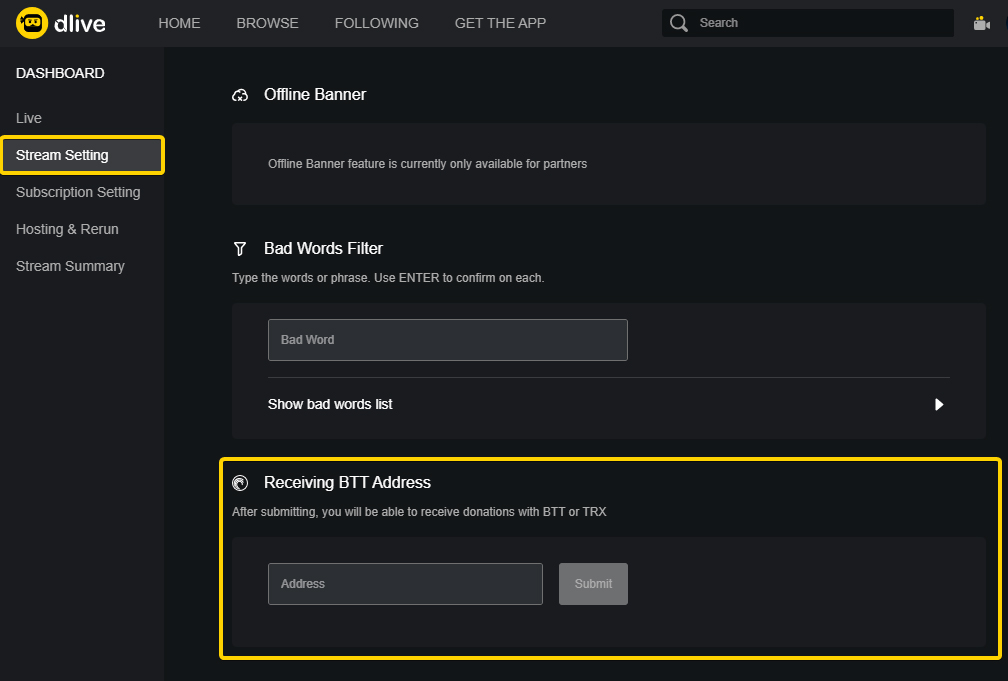 Your channel will now show the BTT donation image and can start accepting BTT/TRX donations 🚀
How to send BTT / TRX Donations
Users who wish to send BTT / TRX donations will be required to have installed the TronLink browser extension - https://www.tronlink.org/
Click the BTT button below the channel
Select either BTT or TRX as your donation type
Select the amount you wish to donate (or type in a manual amount)





Click the "Donate" button
On the TronLink popup window click "Accept"



The transaction will take a few seconds and will appear in the recipients wallet.
Frequently Asked Questions
Are there any fees when donating with BTT / TRX?
There will be a small transaction fee like all Cryptocurrency transactions. This will be around 1-2 TRX.
Will my name appear on the DLive donations list?
Not currently, but we are working on adding this.
Will a percentage of donations with BTT / TRX go to the BTT Stakeholders?
No, only 25% of Lemon donations are distributed to BTT Stakeholders.
Can I remove the BTT Donation option?
No, once activated you cannot remove this from your stream.
How do I check the donations I've received with BTT/TRX?
Please check the transaction history in your wallet. If using TronLink, click either "BTT" or "TRX", then select "Receive".
Can I change my receiving address for BTT/TRX Donations?
Yes, please visit your Streamer Dashboard page, select "Stream Setting" and click the "Change" button.
Can I use the same BTT/TRX receive address on multiple channels?
No. Wallet addresses must be unique.