You can request payment with the Lemon that you have earned. We start payouts bi-weekly (every other week) on Tuesday. This allows ample time for purchases and disputes to be settled. The smallest amount for payment will be 4,250 Lemons ($51 USD). This amount is to meet bank requirements. Payout requests must be submitted by 5 PM Pacific Time the Friday before the payments are initiated. It can take up to 7 business days for funds to arrive in your account, depending on your region and bank.

How to Get Paid
Click your profile picture in the top right of DLive.
Click on the

Get Paid

option on the list.
Complete

Email Verification

Upload Government ID

to Verify your identity
Uploading Government ID

Click

Upload

in the

Upload Government ID

section
Click the

Start

button
Select the Government ID you wish to use to verify your identity
Select whether you wish to

Take Photo

or

Upload File

of your identification
Complete the ID Verification process
Getting Paid
Click

Create Payment Request

.
Click

Add new address

.

Select your billing country

and

Cashout Method

.
Enter your Bank Information and Click

Save
Enter the amount of Lemon you wish to cash out. Click

Next

and Complete the process.
Please make sure you provide the correct information. Wrong information will cause your payment to be delayed.

Request Payment by TRON (TRX) / BitTorrent (BTT) / Tether (USDT)
To request payment via TRX, BTT or USDT tokens, please select one of these options, enter your supported wallet address according to the specific cryptocurrency you wish to receive and press Request Payment. (These options are not available to residents in the United States)
Please make sure you enter the supported wallet address for the specific cryptocurrency you wish to receive. Sending to the wrong address may result in a loss of your deposit.

When choosing USDT, please make sure you are entering the USDT-TRON (TRC20) address.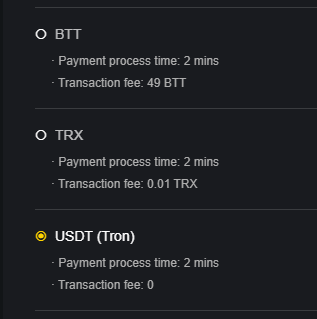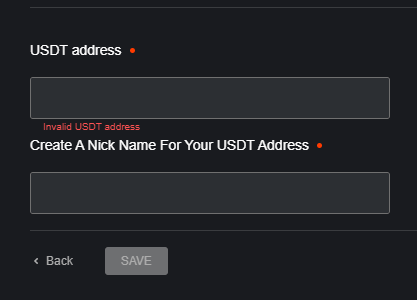 Request Payment by Tipalti
To request payment via Tipalti. please select the Tipalti option, then follow the on-screen prompts.
Once you have selected Tipalti as the option and clicked next you will have to fill out some basic information the first time you use it. When you have completed this click "Next"
Next you will select the type of payment you want. Your options are PayPal, Wire Transfer and Direct Deposit / ACH. We will use PayPal for the guide purpose.
The next part will be different depending on what country you are in. For the guide, we are going to use the USA. You will need to fill out a W-9 for tax purposes. Take your time and fill this information correctly.
Once you are done you will have this screen
Now from the main menu, you will see the option that you have entered. This will allow you to continue the payment process as normal